There are basically three things that can keep a person from blogging as often as he or she should. There are probably more than three things that prohibit regular blogging, such as lack of food, electricity, or the occassional forgetting of a password. None of these were the cause, however, of my recent hiatus.
1. Failure to keep up-to-date with other similar blogs.
Since I do most of my work from home these days, I have very little use for my laptop on a regular basis and choose to work on my desktop most of the time.
While this does offer me a much more comfortable place to get things accomplished with the 700 gigs of harddrive space, 2 gigs of RAM and plenty of desktop real-estate, I quickly realized that I was failing to follow my fellow bloggers closely because the feeds are all saved on my laptop.
For this reason I will be switching to a web-based RSS reader this week. It may take some time to move over all of my feeds and to organize them. Any suggestions for which feed-readers to use would be greatly appreciated. Right now I'm looking at going with
Google Reader
, but I'm open to suggestions.
2. Pregnant Wife
You might not want to use this excuse unless it's true otherwise in a few short months your readers may be asking, "What about the baby?"
Just so everyone knows, it is true and the due-date is December 7. And before anyone makes the joke, it's December 7,
1941
that will live in infamy; December 7, 2008 will just live in famy. Needless to say, our lives have been frantic, but fun the last few weeks in preparation for our new arrival. We have a name picked out, but we're not telling anyone. We're also open for suggestions here too!
3. Political Season Goes into Hyperdrive
I try very hard not to talk about politics on DigitalWorship as I do not think this is the forum for those types of conversations. That being said, I am a political junkie, so most of my posts undergo a multi-layered filtration as to not contain some political shadings. Growing up, elections were like the Super Bowl. No. I take that back.
Mid-term
elections were like the Super Bowl.
Presidential
elections were like the Olympics.
(For readers from other countries, the US has a presidential election every 4 years and every 2 years we have elections for Congressional seats as well as most state governors. Thus, 2008 is a presidential year (as I'm sure you are aware), and 2010 will be a "
mid-term election
" as only congressional seats are up for election on the national scene. Each of the 50 states has it's own state election cycles, but still fall with regularity on the even-numbered years.)
If you're interested in discussing politics I am much more active in that area on
Facebook
and
Twitter
. This is a picture of where I watched the debates on my desktop computer and Twittered my thoughts on my laptop. My wife's computer is the one on the left, but she was using her laptop at the time.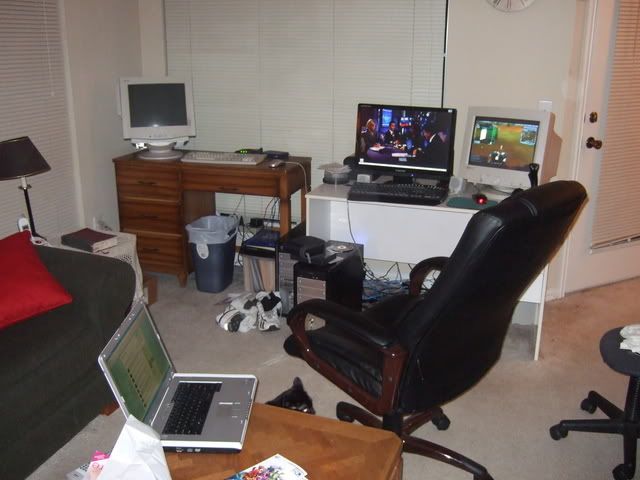 These three things have consumed my thoughts over the last few weeks. I have some cool stuff to report in the area of the internet and the church, so keep your readers pointed to DigitalWorship and I'll pass those stories along to you in the coming days.