Proper Branding Cannot be Underestimated
When you think of
Chili's
restaurants what do you envision? Initially I think of a relaxed place to have an enjoyable lunch. Secondly, I think of The Office. ("Chili's is the new golf course" according to Small Businessman Magazine.)
Starbucks does the same thing. When you think of
Starbucks
what comes to mind besides their near saturation of locations nationwide? Warm earthtones, a place to sit and chat, and social awareness.
Both Chili's and Starbucks work hard and spend a lot of money to create an image that reflects their values.
Churches can learn a lot by looking at how businesses communicate with their customers and use that to communicate better with their congregants and visitors.
Branding happens on two levels. A philosophical level and a physical level.
Philosophically, you must determine your church's values and create communication that reflects those values. If a church is primarily traditional in worship style and uses tradition teaching methods such as a Sunday School program, it would be disingenuous to create communication that gives the impression that the church is fast-moving and cutting edge. At the same time a church with services that look like rock concerts should not cast itself as a down home good ol' boy church. (Those are southern terms in case you're not familiar.)
Physically, the production of all communication should be uniform across the organization. When you go into a Chili's the colors green and red stand out. Giant chili peppers are so prominant that they will haunt your dreams for weeks. But the point is when you leave, you will remember Chili's. Some churches do this very well with crisp professional logos and graphic designs.
The 21st century Christian and non-Christian alike are market savvy and will respond to proper branding in communication because it is the language they know and speak. But well-designed branding doesn't happen by accident.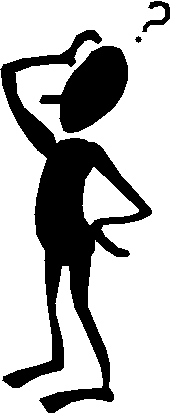 Gone are the days when printing a flyer using Microsoft Word and some clip art will effectively communicate what's happening at your church and where your church is headed for the next 10 years. I'm not sure those days were ever around really, but now, more than ever, communication needs to look as good as you can afford to make it. I mean look at Mr. Screen Bean on the left there. Look how stupid he looks. If you're in a ministry, let's make a pact to never use Mr. Screen Bean again. And if you're not in ministry, but are attempting to communicate with fellow humans, I beg you to join us.
Remember this: If the person doesn't read it or hear it because of poor design, you did not communicate it properly and communication did not happen.